Last Updated on April 28, 2023 by ClinicNearMe
Creatine is quite a famous supplement among young athletes, especially high school boys. Creatine is regarded as helpful in enhancing the body's strength and building muscles. Although multiple kinds of research are conducted to know that 'is creatine safe for teens or youngsters?'. The studies show that there is no specific side effect of using creatine in a prescribed quantity.
Although creatine is generally safe, athletes can use it in bodybuilding and weightlifting. Some case studies show that it might not be helpful for all athletes. For people who already have kidney disorders, creatine can affect the normal functioning of the kidney.
When teenagers interact with young boys of age over 18 during their athletic activities, they see them taking creatine, and they become concerned. According to studies, almost 30 to 40 percent of teenagers take creatine to improve their athletic performance.
Suppose you want to know what creatine is and "is creatine safe for high school athletes." Also, at what age can you take creatine, and what are the advantages & disadvantages of using creatine as an adolescent? You have landed at the right place.
Related Article: Who Is The Most Powerful Doctor In The World?
What Is Creatine?
Creatine is a sports supplement; according to some nutritionists, it is helpful for athletes. This supplement is typically used by athletes involved in muscle building and weight lifting. Creatine is our body's naturally occurring organic compound, usually stored in our muscles. The human body synthesizes creatine in the kidney and liver by processing amino acids.
It strengthens our muscles and boosts our energy to exercise heavily and practice sports. In simple wording, creatine enhances the energy known as phosphocreatine (Pcr), and Pcr is responsible for strengthening our muscles and allowing us to do heavy exercises easily.
Pros And Cons Of Using Creatine
Pros
According to nutritionists, taking creatine in a recommended quantity is beneficial to athletes and those involved in challenging physical activities.
Here are some key benefits of using creatine;
Creatine supplements are an excellent dietary source that our body needs.
Creatine helps to boost your muscle's strength.
It enhances your muscle size and mass.
According to some research, creatine has anticancer properties.
It gives you extra power to yourself and restores your energy.
Creatine lifts your phosphocreatine level.
It builds your stamina for heavy routine work.
Creatine in a specified amount is considered safe and will improve your performance.
Cons
Creatine Supplements are harmful to those who are not involved in athletic activities. You mainly use it when you have to do heavy exercises and practice sessions. It may be hazardous for people who do not require creatine supplements because of their inactive lifestyles. Here are some disadvantages of using creatine in an excessive way.
Creatine may be the prime reason for the extra weight gain.
Sometimes creatine causes dehydration that is harmful to the human body.
Creatine supplements can also disturb your stomach.
It can also be the cause of water retention.
Overusing creatine can cause swelling in some medical conditions and make you inactive.
It may also affect the normal functioning of the kidney and liver.
Creatine may be a reason for high blood pressure.
Some other side effects of creatine may include headache, joint stiffness, and nausea.
Is Creatine Safe For Teens, Or At What Age Can You Take Creatine?
When it comes to teenagers, parents become more concerned about the use of creatine in underage youngsters. However, it is a common perception that a specific or short-time use of creatine has no side effects. Creatine is safe for youths above 18 and can boost stamina and muscle energy. But some medical experts do not recommend the long-term use of creatine in teenagers.
Several things should consider regarding the intake of creatine supplements in teenagers. In the absence of authentic information from medical experts or nutritionists, people start believing what they hear in their surroundings. The specific intake of creatine for a short period is also helpful in enhancing athletic performance in teenagers.
According to the studies, creatine can improve the capabilities of the brain and is also helpful in reducing the feeling of fatigue. One obvious thing is that excess of everything is terrible. Although people often mention 'creatine under 18 side effects', using it in a limited way can increase athletic performance in teenagers. However, the question remains: is creatine safe for high school athletes? The studies show that using excessive creatine supplements is not recommended by experts in adolescents.
According to Dr. Disa Hatfield (URI), teenagers should improve their diet, sleep, and routine instead of using creatine supplements. The organic sources of creatine are fish, fresh milk, and red meat, and you can use these dietary sources to get creatine alternatives to these supplements. Also, when using certain medications, intake of creatine is strictly prohibited as it can damage your organs.
The problem is these creatine supplements are readily available in the market, and teens can purchase these creatine supplements without any recommendation from the experts. No restrictions or legal acts exist for selling and buying these creatine supplements. So, there should be a need to spread awareness of using these creatine supplements in teenagers.
Best Creatine Supplements To Buy For Adults (Nutritionist's Pick)
If you're curious to find the best creatine supplements to boost your energy and power. After extensive research and comparison with other products available in the market. We choose some best muscle builders and workout supplements recommended by nutritionists.
3. Muscletech Monohydrate Platinum Creatine Powder
Since MuscleTech's Creatine powder supplement has an excellent trust factor and customer reviews, it is considered the most trusted muscle building supplement. Muscles Tech gives you the purity of ingredients, and it is recommended for adults. The supplement helps recover the muscle injury and the user after using a short time. MuscleTech builds the muscles faster and significantly helps increase the muscles' mass.
Benefits of MuscleTech Creatine supplements
This supplement contains 5g of 100% pure, HPLC-tested, micronized creatine monohydrate.
MuscleTech is helpful in muscle recovery, and you can do heavy exercises with ease.
It can be used by both men and women and enhance the size of lean muscles
Beneficial to improve the strength and stamina building
There is no addition of extra ingredients like sugar or any flavor.
Nutricost comes with the best quality micronized creatine monohydrate powder, highly recommended for adults who want to grow their muscle size and build stamina. The Nutricost creatine is perfect for athletes of weight lifting or bodybuilders, and it helps increase muscle mass rapidly and gives you a perfect fit per your need.
Benefits Of Nutricost Creatine Powder
Enhance the strength of your body
Give power to your muscles
Build up your stamina
Made up of pure creatine monohydrate
Powder form makes it easy to use
No artificial color or flavor included
Specially made for the lean muscles to make them heavy
1. BSN Micronized Creatine Monohydrate Powder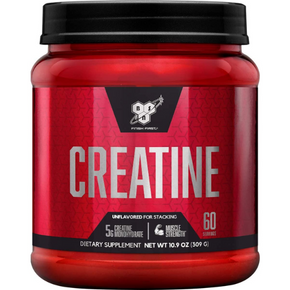 BSN creatine is purely micronized monohydrate creatine powder that helps many to achieve their ideal bodies. This creatine supplement pushes your body's lean muscles to gain muscle mass. With the use of BSN creatine, you restore your body's energy, and you can enhance your athletic performance rapidly.
Benefits of BSN creatine powder
Take your performance to the next level
Both for men and the women
Enhance the ability to push the heavyweight
Very effective for lean muscles.
Suitable price as compared to the other product
Easy to dissolve in the liquid
No artificial coloring
No extra flavoring, pure creatine
Conclusive Comments
Creatine is an excellent supplement, especially for adult athletes. Several studies have shown that creatine plays a significant role in building muscles, increasing stamina, and boosting energy levels. But there should be proper consultation with a certified nutritionist before using creatine supplements.
Imagine that your teen is interested in using creatine supplements. At an early age, it is better to talk to them about the benefits and risks of creatine use. Take them to a medical expert so they will guide them properly. Please provide them with information on alternative sources to obtain organic creatine. Additionally, a certified nutritionist can prescribe your teenager creatine supplements specifically designed for teenagers.
Related Article: Signs Your Family Doesn't Care About You: An In-Depth Look